The Anime Aesthetic
is creating essays on visual aesthetics in anime, manga, and tokusatsu
Select a membership level
Short Essays
You'll get access to illustrated essays that are 200-400 words long.
These essays will focus on some striking moment in a movie, TV series, OVA, or manga, often analyzing the power of a single image, shot, sequence, panel layout, etc. 
For $1 per 2 short essays, you'll see up to 10 short essays each month, for a maximum fee of $5 per month. This way you can decide if you enjoy my approach, and might want to make the leap to another tier.
Building Something Bigger: Longer Essays!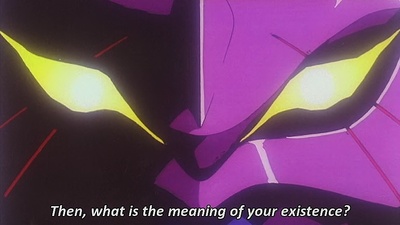 This begins with the same content as previous tier, but at a pay rate of $5 per 2 short essays up to a max fee of $25 per month. 
In addition to all the short essays and mini-podcasts, you'll get access at this level to:
Longer essays of 1000-3500 words (my goal is to write at least one of these every 2 months).
Podcast versions of these longer essays.
The content in these longer essays will be similar to that in the short essays, but will be fleshed out with stuff like historical and cultural context and in-depth applications of ideas from film theory. Subjects here will be entire series, feature films, and in-depth looks at specific directors and artists.
These longer essays could be book chapters. If I publish a book, supporters at this level will receive a copy.
Really Excited About This!
Limited (100 of 100 remaining)
$10 (to monthly max of $50) for every 2 short essays, plus the long essays, plus all the short and long podcasts, plus all this other stuff:
rough drafts of upcoming long essays, typos and all
notes toward future essays, half-formed thoughts, etc.
downloadable copies of slideshows (with text notes) that I create for convention presentations and course lectures
access to my personal reading list with brief reviews of the books that inform my essays
a free autographed copy of any book(s) I might someday publish as an outcome of my efforts here, plus
your name listed on the dedication page at the front of my books
[At some future point, I will very likely also start creating videos of these presentations, which I will share with supporters at this tier.]
About
I am so glad you've arrived here and are considering supporting my work. Thank you.
tl;dr version up front: I think there are plenty of people online doing reviews of anime mainly from the perspective of smart, opinionated fans digging into the stories and characters in their reviews, so I'm not going to do that. If, as part of your love for anime, you want to start seeing this material from a new and different perspective—maybe even a perspective that you never even knew existed—this might be the place for you!
My background is in film studies (BA: University of Michigan, 1990), and I can't get enough of academic film criticism, media and cultural theory, etc. But I never wanted to be an academic when I grew up. For years in the '90s and '00s I wrote (live action) film criticism for various obscure online and print outlets. I love learning and teaching about anime and related subjects, but I don't really groove on the workload specific to academia, and have no aspirations to be a professor. So I have adopted the label "independent scholar".
While I can roll with academic language, it honestly kind of bothers me that there's this whole world of ideas that academics are in some ways keeping to themselves by walling those ideas off inside a kind of "jargon fortress" that is impenetrable to many people. But I don't mean this as a dig at academics. Some of my best friends are academics, and I think the language they use to convey ideas is pretty miraculous in and of itself. The deficiency, as I see it, lies in the absence of writers who are interested in carving out windows in that fortress so that people on the outside of it can get a chance to peer inside and see some of the cool stuff going on in there.
So, not to exaggerate my importance too much, but this is where I come in.
For many years I have been doing presentations at anime conventions (mostly Anime Central in Chicago). Then I started doing guest lectures on anime in classes at the University of Michigan where I work as audiovisual support staff. Then in 2017 I submitted several presentation ideas to Anime Expo, the largest anime convention in the U.S. (held every year in Los Angeles). I was a bit stunned when every one of my presentation ideas was approved and scheduled! I was even more stunned at the crowds of attendees for all my presentations, as well as the very positive feedback I received from audience members following each of them, including getting invited to return in 2018 after the presentation I did as part of an academic panel.
I love ideas, and I want to get even better at working out ways to put ideas into words as a way of transferring those ideas from my mind into the minds of others. The biggest idea that drives how I look at visual media is actually a question: what is unique and special about a particular work because it is visual (on a screen or drawn on paper) instead of written words on a page, a sculpture in a museum, or a play in a theater, etc.? Considering this one powerful question opens up a special world of ideas about aesthetics (how what we see creates in us an emotional response). This particular world of ideas also helps us think about how what we see creates meaning (the fancy pants word for this is "hermeneutics"), and how historical, cultural and other contexts connect with those aesthetics and hermeneutics. In addition to aesthetics, then, I'll also be writing here about hermeneutics, historical and cultural context, and other stuff I hope you'll enjoy.
The internet is a unique space for ideas because of the space it opens for comments and feedback from all over the world. People in different parts of the world experience and think about the world differently from each other. The internet can bring all that together in one place. Much of the time maybe that isn't very positive or productive, but some of the time it really is. I personally love it when it is, and hopefully here it will be. I strongly encourage comments, questions and feedback from patrons, and I hope to nurture a community here where we can all learn amazing new things.
Reading the short essays will give you a great introduction to the way I think about anime, manga, and tokusatsu (which, in case you aren't familiar with the term, refers to live action special effects shows like Ultraman and Kamen Rider, and movies like those in the Godzilla franchise).
Subscribers who stay at the entry level will learn from the short essays to see this stuff in new and really interesting ways that you never thought about before, and those who support my work on longer essays will get more in-depth bang for their buck. If all goes well for me here, with your kind support, this will lead to stuff like book publications and being
invited
as a guest to conventions and film festivals (instead of having to submit my work for approval). If in time I become that kind of industry insider, then I'll be bringing you, my supporters, with me by sharing those experiences here with you.
I hope you'll decide to help me see how far I can go on this adventure into studying these art forms that I love so very much.
 Thank you!
All the support you provide toward this goal will go toward my costs for the streaming services, manga books, and reference books that make my efforts here possible. Of course I'm already paying for that stuff now out of pocket, but this goal is designed to make my work on this site sustainable at a basic level. This work is a passion I've long wanted to pursue as part of how I earn my living, and this goal is a first small step toward that.

1 of 5
Become a patron to
Unlock 17 exclusive posts
Connect via private message
Recent posts by The Anime Aesthetic