#TheDeshBhakt
is creating videos, that make politics fun, relevant, yet deeply informative
Select a membership level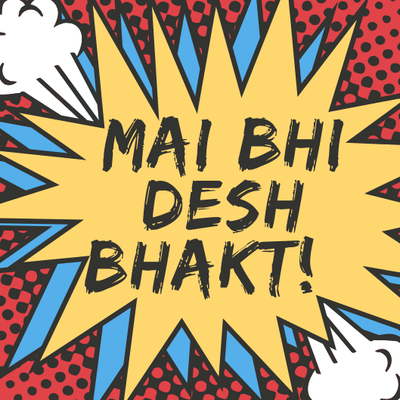 Mai Bhi Desh Bhakt!
- Beginner Desh Bhakts - get access to all the patreon-only posts / behind the scenes / updates on what next. 
Includes Discord benefits
Pukka Desh Bhakt!
- Suggest Ideas / Concepts for next episodes / livestreams / interviews we do.
- Chat with #TheDeshBhakt via Patreon.com chat feature.
Includes Discord benefits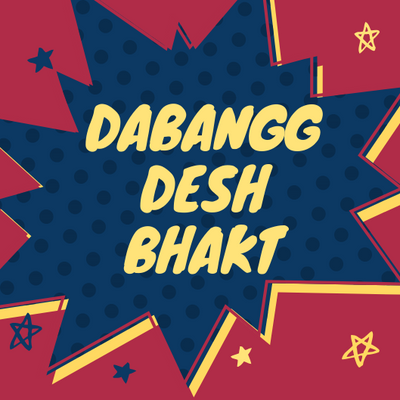 Dabangg Desh Bhakt!
- First right of questions to celebs / guests we get on our shows. 
- Vote on Videos / Issues / Direction the Channel should take
- Priority response to Patreon Messages 
+ all previous benefits
Includes Discord benefits
About #TheDeshBhakt
The Desh Bhakt Story So Far...

January 2018
- seriously started exploring the idea of playing with Political Satire,
By March 2018
- quit my comfy (and well paying) job as Vice President at a media company,
June 2018
- sold off house to fund an Independent new-media startup that would talk straight & blunt with lots of satire,
By August 2018
- cracked 125k subscribers on Youtube and got the confidence to get a small team,
December - 2018
 - started dreaming big of being able to have more frequent content on social media platforms
January - 2019
- cracked 300k subs on YouTube, content is covered in websites, merchandise on the way!
May - 2019
- Reached 600k subs on YouTube and 100 MILLION in reach - making #DeshBhakt India's largest satire platform. Merchandise store churning out designs & more frequent videos. Move towards podcasts & a website!   
Extremely difficult?
TOO risky for the Indian context?
People don't GET satire in India - leave aside blunt commentary??!
It's IMPOSSIBLE to be apolitical in our politics!!! 
Well - a few months ago it was impossible for me to believe that people will actually pay for quality content / researched facts / political satire - but here we are .... learning to fry as a CROWDFUNDED / CROWD DRIVEN / CROWD SOURCED channel. i.e. we are not only FUNDED by you - we are DRIVEN by your thoughts and even research material and contribution at times.

Why become a Patreon?
Mainstream Media has largely been taken over political / business interests.
No one is watching TV News and Newspaper readership is on the decline.
Direct and Indirect censorship is on the rise - giving serious concerns over Freedom of Expression.
Satire as mode of making a point is the most trusted in America and will soon become one in India too.
To beat a system that is controlled by politicians, businessmen and advertisers - content HAS TO BE PAID FOR / SUPPORTED BY individuals who can. While this model of public funding was not viable for large media companies - it has become possible to do so in the digital world and micro - publishing.
What in the World is #TheDeshBhakt ???!!!!  
The Desh Bhakt attempts to challenge the way political discussions happen in India - i.e heated, bitter, one-sided & acrimonious. (The mainstream media is agenda driven and the parties themselves want more confrontation and polarization)
In a country where the Army / Bharat Mata / Nationalism is dragged in to defend the indefensible - #TheDeshBhakt - is a small attempt to make politics a fun thing... where there is no 'agenda' / no 'paid media' / no 'sides' / and some simple facts to make so simple points. (After all the world's largest democracy - does offer a lot of humour, satire and fun on both sides of the fence)
In a few months - we have been able to win the trust of scores of people and now we are hungry for more. If you would like to support an initiative that talks TO you - not AT you ... if you value independent and free speech... if you think that satire in news is the future - then do become a Patreon Desh Bhakt and unlock direct access / collabs / Q&As and a lot of other goodies!
HOW DOES THE PATREON DESH BHAKT WORK?
Patreon members can contribute anything from $3 to $99 every month. They will get the following benefits according to the contributions they give. (see Desh Bhakt tiers please) 
A say in what topics/issues the next episode is going to do.
Their comments/questions / feedback is doing to be answered first / then the rest of the comments on SM
Direct access via email for questions/contribution ideas
Name is mentioned in the show (Ultimate Desh Bhakts)
First access to #DeshBhakt events and meetups
Patreon questions get answered first on weekly AMAs (7pm IST)
Depending on the number of monthly subscriber contributions we have - we will expand its coverage and frequency - so you control a lot of the future of this channel.
If you would rather like to make a one-time payment to #TheDeshBhakt - then you can do it with Instamojo - via this link.
One Time Contribution via Instamojo
Finally a big thank you to the early believers - you guys will always be special and I hope you keep the faith as we grow and show us the light when we stumble - which we will for sure! 
With 2000 patrons - we would be able to take independent Political & Social satire to the masses - with a full team churning out daily content via Social Media / YouTube / Podcasts. 
With this level of support we will finally be able to have our own webpage and LIVE youtube channel making #TheDeshBhakt the satire destination of India.
A full team and a decent sized office will allow for in-house illustrations / fast editing / podcasts / guest interviews / live events / live broadcasts & a whole lot more!
3 of 3
Recent posts by #TheDeshBhakt
By becoming a patron, you'll instantly unlock access to 104 exclusive posts
By becoming a patron, you'll instantly unlock access to 104 exclusive posts