The Easy Vegan
is creating silly but tasty vegan food videos
Select a membership level
Egg-man/woman
Are you the egg-man/woman? Are you the walrus/walman? You're neither, it's just words. BUT! Eggs will be like "DAYEM, thanks egg-man/woman! Now I won't be mayonnaise". 
Then they'll hi-5 you and you'll feel egg-static for being so egg-cellent! 
Cok Warrior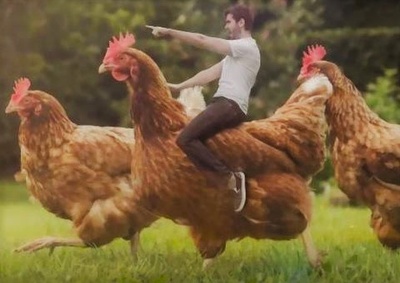 If you pledge $2 per creation, you shall become a Cok Warrior! A guardian of fowl (chicken) life everywhere! The chickens will bob their heads in praise of your beautiful fleshy red mohawk!
Pig Lord
For $5 per creation, you'll become a Pig Lord! Saviour of the gentle and intelligent snouty nosed. Pigs everywhere will follow you into battle covered in poop like in that movie Predator and you'll say AAAH and it'll be cool n stuff!
About
Hi, my name's Jules

I guess you've seen my videos? Kinda silly right?

Well I reckon veganism needs a bit of silliness. I'm trying to get as many people into veganism as possible. And I reckon a lot of people are turned off by the yoga pants, the chia seed smoothies and the moonlit virgin sacrifices. 

I'd like to show people that veganism can be really fun and enjoyable, with simple, quick and tasty comfort food. I'm not a chef, I'm just a guy with a kitchen and that's it really.

If you would like to help, any and all contributions will help me get closer to doing this silly project full time (and telling my boss to shove it!)

What do you get in return? Not much! You'll get to see my creations before anyone else here on the patrons only page. And I'll have a chat with you here about the weather and stuff. If you give me enough money I'll consider taking my trousers off and doing whatever dance you want. Other than that, it's just the boring old satisfaction of having helped someone doing what they love and promote veganism, potentially saving lots of animal lives. YAWN!? Is it really worth it?  . . . . . (whispers) yeeees.

Honestly, thanks for watching and even thinking of becoming a patron. 

NOTE: There will never be more than 1 creation per week, if that even!

Much love :)

Holy tofu! I'll be able to give my boss the middle finger and devote all my time to saving the animals with terrible dad jokes!
2 of 2
By becoming a patron, you'll instantly unlock access to 10 exclusive posts
By becoming a patron, you'll instantly unlock access to 10 exclusive posts
Recent posts by The Easy Vegan