Michael Bancroft
is creating a mystery sci-fi fantasy graphic novel
Select a membership level
Pledge $1 or more to unlock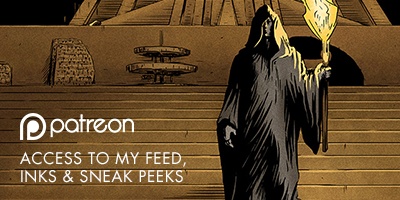 • Access to the Patreon feed where I post upcoming inks and sneak peak panels
• I'll shout you out in my next update
Pledge $3 or more to unlock
Pledge $5 or more to unlock
• Access to the Patreon feed where I post upcoming inks and sneak peak panels
• I'll shout you out in my next update
• Access to Google folder where I post hi-res pdfs of episodes ahead of schedule. Here's an example of what you'll get: https://drive.google.com/open?id=1RxhZRyVjzIo74B5377ryT_n7_iYBt2L2
• Request any panel as a hi-res wallpaper (per month)
• Request any panel as an original psd file (per month)
About
Hi, I'm the writer and artist behind the web comic / graphic novel The Lucent.
It takes anywhere between 30-60 hours to make a single page of this comic, so in order to save time I hire a flatter, and in conjunction with app fees and purchases, 3D models, site hosting fees and other miscellaneous costs, it is a rather expensive enterprise. My first goal with this Patreon page is to get to a point where it's at least a break-even undertaking.
As a family man and full-time designer, I have to carefully manage my time in order to bring out regular updates, which means daily 5am starts and sacrifices on the weekend. I dream of a day when enough supporters means I can afford to spend more time on my passion. And more time on my comic means more frequent updates. That's where you come in. With your generous support, that dream can become reality. So if you enjoy The Lucent and are able to chip in, I would be forever grateful.
For more into on how this all works, please check out the
Patreon FAQs
.
Thanks so much for you support!


The Story
From the outside looking in, it looks as though Ella Forsythe has given up on life. The survivor of a childhood tragedy, she now subsides in the shadows of life. An underachiever at work, she spends her spare hours caring for her infirm grandfather, who she suspects has long since lost his mind.
But Ella has a secret, one that threatens to shatter her solitary existence, and thrust her into danger. Luckily, there are those who will do anything to protect her, even if she doesn't know it yet. But to accept their help would mean shouldering a burden far beyond her wildest imaginations and becoming part of something which not only stretches far into the past, but promises to transform the future.
Tense, mysterious and symbolic, The Lucent is a contemporary fantasy and alternate history epic that seeks to question the nature of what is real, and what really matters.
This would comfortably cover my flatter's fee, app fees, site fees and other monthly miscellaneous costs associated with making The Lucent.
2 of 3
By becoming a patron, you'll instantly unlock access to 102 exclusive posts
By becoming a patron, you'll instantly unlock access to 102 exclusive posts
Recent posts by Michael Bancroft