Shavawn M. Berry
is creating a wonderland of words that nourish, encourage, and catch fire
Select a membership level
Become A Patron
Limited (10,000 remaining)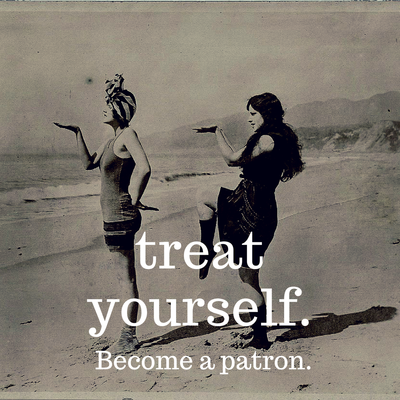 Unlock exclusive content and join my community of patrons. 
Be my blessing & benefactor. Find kindred spirits and fly your freak flag.
Access to patron-only content
Connect with other patrons
Early Access to New Blog Posts
Limited (1,000 remaining)
Be ahead of the crowd. See my blog posts first. 
Access to shiny happy blog posts before they are published for the whole wide world.
Plus all previous rewards
Sneak Peeks
Limited (100 remaining)
See new writing before everyone else. Be my beta reader and a member of my soul-tribe.
Early access to excerpts, memes, liner notes, jottings & marginalia. 
Sneak peeks at reflections on the writing process & book projects.
Plus all previous rewards.
About
"What would happen if one woman told the truth about her life? The world would split open." ~ Muriel Rukeyser

The Wonderland Files
started as a bit of a lark, nine summers ago.
It took me a while to begin.
I wrote a few posts and then got lost in my teaching work. In order to bind up my then broken heart, I silenced myself for a long time, uncertain anyone was reading what I'd written, or if it mattered if they did.
I finally started writing regular posts in 2012. I wanted to create a 'writing practice' and discipline myself to write and publish things quickly, rather than obsess about making something perfect, editing the life out of the words. It was a labor of love then, and it still is.
Writing for me is something akin to breathing.
I turn blue without it. I curl up into a ball and I fade. I become a wallpaper girl.
So, when I began writing in earnest, my life flourished. As I started to let myself speak, if only on paper, I bloomed. And I found many kindred souls in the process of sharing my unvarnished truth. Thousands read posts that I published. Thousands more read them when I submitted them to other sites, online magazines, literary journals, and anthologies. My piece,
Breadcrumbs in Dark Times
, has been read over 100,000 times on
Rebelle Society
and on The Good Men Project. The first piece I submitted anywhere from my blog was a piece called
A Beginner's Guide to Change. Live the Questions. Don't Be Afraid.
It was published on
Rebelle Society
and later included in their anthology,
The Best of Rebelle Society, Volume 1.  
I wrote that piece in a frenzy in ten minutes. My heart pounded furiously in my chest when I sent it off to be considered for publication.
I've written nearly 300 blog posts over the past five years, sometimes several per week, but although I've deeply loved writing these posts, I would love it more if I could turn what I have created into something even bigger that can affect even more readers. I have book projects, a line of greeting cards, stationery and tee-shirts, as well as destination and online writing workshops & retreats all in the early planning stages. However, I need funding to seed these projects.
I want to pour light into the world but I also need to eat, keep the lights on, and pay for things like the internet, blog and website hosting, Canva and my water bill.
Creating a space where I can not only find new readers, but also gain support from current readers, makes Patreon seem like a great place to set up my writing desk, 
open my door, and ask you all in to sit a spell
.
Patreon is a creative platform that will allow me to share what I know is true.
Why I Write
I love words. I love stories. I love swimming in the tides of language and diving deep only to surface with some insight or idea that is completely unexpected, new. I find out what I know, what I am pondering, what makes me curious, what helps me tick, by coughing up words and watching them take shape. (
Everything Starts with the Word
)
I write to find my own sense of truth. I write because spirit tells me to do so. I write to find out what I know. I write because I can't stop myself. I write because my medicine is words. My purpose in life is to unspool the truth as I see it.

Why I Teach
I teach because I have a natural affinity for it. It is my second nature. I am able to help writers find the roots of their creativity and nurture them to a point that they grow and flower. My spiritual sense of writing as a practice helps me connect with students, assisting them in deepening and broadening their work. I have a talent for teaching and a talent for helping my students strike gold. We search for the diamonds in the coal chute. We are certain where there's poo, a pony cannot be far away.
I teach to affect the future. I teach to stretch my life.
Patreon seems like a good place for all of this. For me to find my tribe and for my tribe to find me.
I look forward to seeing what pops up. Surprise me. Astonish me. Let me know I am not alone.
oxox
S
www.thewonderlandfiles.com
This goal would allow me to write fulltime. I could set up shop for my online and in-person writing workshops, design and print my stationery/card line, and finish my first book this year.
1 of 3
Become a patron to
Connect via private message
Recent posts by Shavawn M. Berry