The Zombie Noodle
is creating Boring Game Commentary like everyone else!
Select a membership level
A dollar pledge might be the smallest but it also means the most. Every dollar adds up and gets us one step closer to accomplishing real goals! Just by donating a dollar you will be given access to my private Patron Steam Group! This is a group of all of you and of course myself! From here you can feel free to contact me, ask me questions, shoot the shit, gossip and of course, play games together! This doesn't just limit interaction to myself but you guys can create tournaments with each other and, in a sense, become real friends with one another. How cool is that?!

*Must have a steam account in good standing and must be allowed to be added to a group

$5 donation a month will get your designated name highlighted at the end of my videos as a supporter of the channel! Your name scrolling past my vast ocean of an audience... can you just imagine it? Yeah... not good enough? Alright Scrooge, for your continued support you will also be automatically entered into a monthly Random Drawing where each month you have a chance to win a free steam game, or a Steam Gift Card! Sound better? Oh, and of course you'll also have all the cool rewards listed above. In this case, added into the Steam Group!

For $15 monthly donation you get to be a Co-Producer of my channel. A Co-Producer is someone who dictates what games I should play for my secondary game of the week, or what is now referred to as my "Patreon Reel". The games in the Patreon Reel are chosen by you and I'll make a schedule according to length of game play and ability to acquire game.
How many can you recommend?
As many as you want and as often as you want! Just remember that your picks are going to be put into a rotation with everyone else at this tier level so it might take a bit to get around to it but I'll do my very best!

What if no one recommends videos?
Then I'll play whatever until someone does recommend videos.

What kind of videos can I recommend?
Well, anything YouTube friendly and it has to be available on PC. You CAN recommend endless games (like MMOs or City Builders) or unbeatable games (like Rouge-Like or Extremely Difficult) but I won't be having a 100 part series of anything. These will be more like Weekend highlights then full play-throughs. Of course, the end discretion is still up to me. Also, any game I've completed is off limits... I'm not gonna play back through a game to get the alternative ending.

You also get a special mention in the Co-Producer section of the "Patreon Supporters" list at the end of every video, along with a message of choice, an invite to the Steam Group, and be automatically entered into the Random Drawing each month as well!
About The Zombie Noodle
Who Am I?
Hello everyone, my name is TheZombieNoodle (or just Noodle for short) and I do videogame commentary, lets plays and walk-throughs. But why am I here on Patreon? Well, because I really enjoy making videos and I think this will not only help take the stress about money off my life, but also help improve the videos you guys receive.
I began making YouTube videos since 2013 and have love doing it since the very first one I put out. Oh boy how the quality sucked, the audio was off and it ended up looking like I did all my recording with a toaster. But over time I've gotten better and got a nice little group of supportive fans and now we're looking to give back to the community a bit more. We hope that Patreon will allow us the freedom and opportunity to do just that.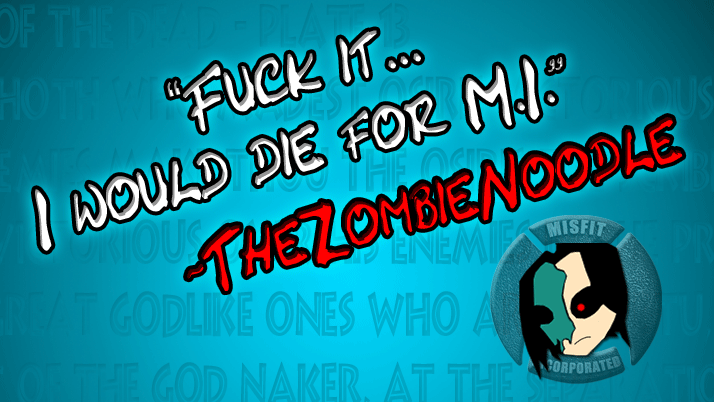 Why are you doing this?
The simple answer is: To give back to the community! There are lots of things I would like to do but simply lack the funds to do so. Some of these things are buying the latest games to debut on my channel. Working full time and juggling a family life does not always afford me the opprotunity to spend money like crazy on new titles and I'm not nearly big enough to get free codes from developers just yet. So... if I want to stay in the here and now, then I'll need additional funding to put out the newest quality videos you all crave. That and I used to have competitions every now and then where we would give away free games to subscribers. I would love to bring that back. Free t-shirts, mugs, swag and games or codes!

This is a good example of what I love to do:

What happens if I don't want to donate?
Nothing will happen, lol. This is purely just for people who would like to leave a tip or help support in any way they can. This is by no means a requirement nor will videos become exclusive for only people who donate. If you really don't want to give anything, are anti-donation or just don't have the means to donate then please, enjoy all my content the way you have been enjoying it since the day you discovered you liked me enough to subscribe.
I always appreciate everything you guys do for me, even it's it's just watching the latest vid that came out.
This first level goal ensures the latest game title out there each month can be debut on my channel. Keeping up with the big hitters of YouTube can be expensive and this ensures that at least once a month I'll be able to afford the really expensive AAA quality goods you deserve... or a bunch of other games to fill in the time between releases!

1 of 4
Recent posts by The Zombie Noodle
By becoming a patron, you'll instantly unlock access to 4 exclusive posts
By becoming a patron, you'll instantly unlock access to 4 exclusive posts