Ynfo
is creating The Impossible Enigma
Select a membership level
TIE Big Supporter
You will get the Premium in-app purchase for free and a grey t-shirt with the TIE logo. Thanks!
About
Welcome in TIE, the best logic game for your device. You can challenge yourself with a new enigma every day! Solve it and beat other players around the world. Use your brain, enjoy the feeling.
The Impossible Enigma
. We love casual logical games, with riddles that need a lot of
focus
and
brain concentration
.
So we thought about a new app that renew the challenge every day with new
really hard enigmas
... and here we are!
Every two days at 09:00 AM two new Enigmas will be published.
By solving each puzzle you will earn some
TIE Points
depending on the difficulty.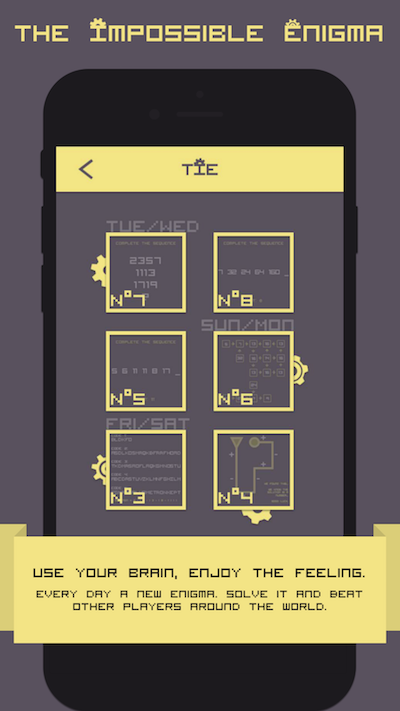 Your progress will be saved online and automatically updated. Any sensitive data will not be stored.
Also,
at 01:00 PM an hint will be unlocked
for every new enigma, so you will get help if you have not come to the solution yet. You can read the hint and try to enter the solution in a "vintage" console.
You can
share
any enigma with your friends through socials or instant messaging apps.
Download links for iOS and Android available soon
We will publish 2 new enigmas every day. Thank you!
1 of 2