TomaComics
is creating a comic about his two cats, and how they are in charge now..
Select a membership level
The Curious Kitty
The tier that's sort of like when a cat sees a bag on the ground and wonders what's inside...
What you get:
- Access to the monthly Patreon exclusive comic.
- Work in Progress posts on comics/illustrations i'm creating.
- Pictures or Videos of the cats...as they continue to rule the apartment and my life.
The Courageous Kitty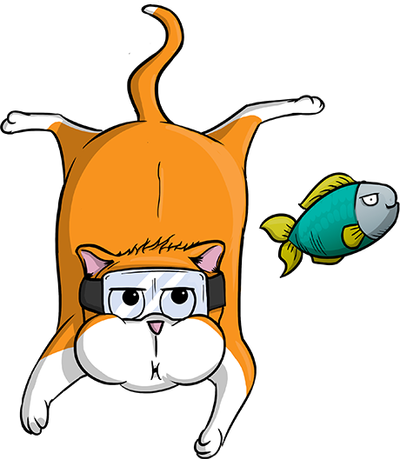 The tier that's sort of like the extremely rare and special case where a cat does something courageous...
What you get:
- Everything from the previous tier.
- The ability to vote on what the Patreon exclusive comic will be about.
The Coooool Kitty
The tier that's sort of like when a cat is so cool they may as well be wearing sunglasses...
What you get:
- Everything from the previous tiers.
- Be a sponsor for one of my comics! 
You've been a huge support and i want everyone to know that. So at the end of a comic/Illustration post on Instagram this month, i'll add your Instagram name as a sponsor, plus a mention in my Instagram story!
About
HELLO THERE!
My name is Tom Neufeld, and i am the artist behind the Instagram comic:
TomaComics
.
So what is TomaComics?
Last year i decided i would attempt to create a social media artist presence. Separate from my day job working as an artist in games, i wanted to create something different—something that celebrated some of the best things in my life. It was an easy leap from that thought to deciding to create a slice of life comic about my weird cats and my equally weird (but amazing!) girlfriend. Over that time I've had the pleasure of connecting with a generous number of friends/followers, and with their support they've helped make this comic so fun and enjoyable to create.
So what in all the crazy kitties is this Patreon thing?
In the most simple of terms:
A TIP JAR.
I've always viewed Pateron as a place for people to show their support to creators they enjoy. Not only does your support help maintain a constant stream of wet-food for my increasingly greedy cats, but it allows me and Tomacomics to grow and bring you more content, merch etc.
If you enjoy my work, and you want to support me, you can donate as little as
THE COST OF A SINGLE COFFEE
each month!
As a supporter you'll have access to all of my work in progress images/sketches i post, all pictures and or videos i post of my cats themselves, all public Instagram posts will be available to you a day in advance, and an exclusive comic only seen by my patreons each month!
For higher tier contributions additional perks if offered. A more detailed description of each tiers included content is in the
TIERS SECTION.
And Hey! If you are not able to contribute don't worry, i will continue to post comics on Instagram
ABSOLUTELY FREE.
Plans for the future?
If this becomes a successful platform for a community of people, i have many additional things i'd like to add to these tiers to boost the value of your donations. I'd love to open an online store where prints and other merch can be purchased, and with a certain tier level donation you'll get a monthly discount code that can be used in-store.
I'd like to have a Discord so this great community can have a mutual place where we can communicate, share kitty pictures, and talk about shared interests.
I'd like to carve out an hour each month to do a dedicated live stream on Twitch where we can hangout, and you can have be draw anything on the spot, or we can just chat and use the time as a monthly AMA (ask me anything).
I have many goals, but these things cost money, and demand more time, as a result, these will remain future ambitions.
If i provide you with quality content and the community here finds my work entertaining the possibilities are endless!
But let me just say, setting up this patreon is still new to me. I'm sure there will be many updates and changes to come. But for now thank you for stopping in, checking this out, or contributing! I appreciate every single one of you cat loving people!
25 members in the Cat Clan!
1 of 3