Tom Dell'Aringa
is creating Science Fiction
Select a membership level
Sol United Ensign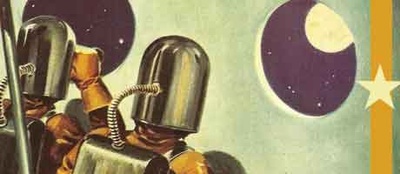 You will receive a digital download of all stories sponsored by this Patreon, and have access to items as I post them.
You're choosing to support my work at $1/creation.
Sol United Lieutenant
You will receive a digital download of all stories sponsored by this Patreon, and have access to items as I post them.
You're choosing to support my work at $3/creation.
About
I'm Tom Dell'Aringa, creator of science fiction (and sometimes fantasy) worlds. I've published four graphic novels (along with other assorted shorter works) two short stories and I have a novel currently being shopped to publishers by my agent.
I'm building a new career as a writer, hoping one day to go full time. That means marketing and promotion - almost more than writing! (Strange, right?) Not only is promoting yourself time consuming, frustrating and difficult - it's expensive. And not in the household budget. Facebook ads, Amazon ads, hundreds of other things that cost $20 here, $50 there, $100 there. A big part of why I need Patreon is to help fund my efforts to be a successful writer. That's where you can help.
Fiction!
Patreon means "patronage," in the old, "I pay people to create for me" sense. So you get fiction. Most of it will be digital. If you back at the higher levels, some of it will be physical. (Which will be limited, because fulfillment is time consuming, expensive and a pain in the rumpus.)
By supporting this Patreon, you will be helping me promote my work to build a career as a writer.
Backers will receive digital copies of all of the work made possible by this Patreon. Some short stories will reappear elsewhere, either sold to magazines or anthologies as reprints (if things go well), or as free downloads on my website. But the backers of this Patreon will get to read and enjoy them long before anyone else.
I'm hoping to produce one piece of fiction a month, giving you twelve new stories of varying lengths. This would be in addition to ongoing larger projects in which you'll have exclusive insight. That's the deal. You help me build my career, you get early, often exclusive access to my work and hopefully some special benefits (such as signed books, or exclusive editions) offered nowhere else.
I hope you'll join me on this journey!
Published Works:
Marooned - A 280-page graphic novel about a egotistical space captain who must learn that the universe does not revolve around him. Self published in 2012. Out of Print.
The Tallest Robot - A short story you can read online at https://tapas.io/episode/1207766
Rock & Tin - a 100-page graphic novel about a magical stone creature - a golem - who must defy his original evil purpose and choose to be good. Self published in 2013. Limited copies available.
The Messenger - In a war-torn landscape, a special messenger risks all to send a very important message. A short story you can online at https://tapas.io/episode/1126072
The Flower, a 48-page comic book without dialog. Available on Amazon.
Punch and Candy at Midnight, a 5,500 word Christmas-themed short story to benefit the hungry during the holidays. (Published Christmas 2018) Available on Amazon.
The Genesis Girl - Mel is infected with a universe-destroying element on her way to colonize a new planet. Alone with her robot, Bert and joined by a dimension-hopping wizard, she must complete a quest to learn how to save the universe. Book is available to read for free on Tapas.
Stinger - A sci-fi short story about overcoming fear, now available on Amazon.
Works in Progress:
Blanchland Blues - A sci fi/humor full-length novel. It is complete and currently being represented by Kimberley Cameron of Kimberley Cameron & Associates.
How often will I be charged?
You'll be charged PER CREATION.
When I release a FINISHED story, that's a creation. The goal is once per month.
You can always adjust your pledge at any time, and
you can set a monthly limit
to your pledge.
You can also read more Patreon FAQs
here
!
By becoming a patron, you'll instantly unlock access to 600 exclusive posts
By becoming a patron, you'll instantly unlock access to 600 exclusive posts
Recent posts by Tom Dell'Aringa