Toussaint Louverture H. Gouthier
is creating Victus Vincimus Veterans Revenge - V3 Film-Game
Select a membership level
Thank you!
I appreciate any contribution, no matter how big or how small. You can donate any amount you feel like. Even $2.00 can make a difference, if enough people contribute.


BASE PATRON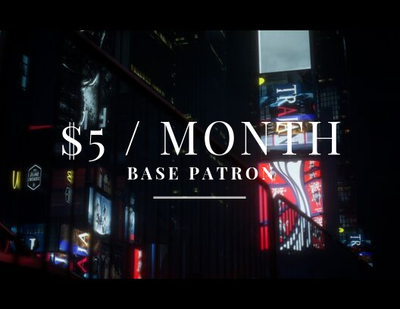 Access to the Patron Feed where you'll get exclusive updates before anybody else.
Access to patron-only content
Sneak peek photos and videos
Signed digital poster
And best of all, once the V3 is released you will get the game free of charge if the total value of your patronage is equivalent or more to the amount the V3 is sold in the market! :)
PATRON PLUS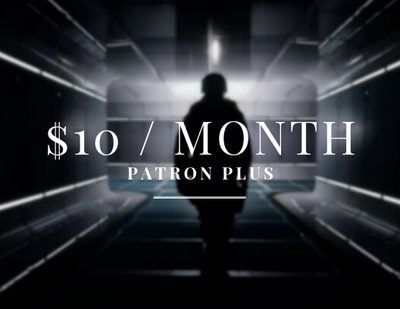 This reward tier will give you access to the following:

Process/behind-the-scenes
Plus all previous rewards
And best of all, once the V3 is released you will get the game free of charge if the total value of your patronage is equivalent or more to the amount the V3 is sold in the market! :) 
About
Hey guys!!!
I'm Toussaint Louverture H.G a self-taught Home Schooled CGI/GAME Developer! As an artist, show business has always been an interest to me, predominantly Music & Movies largely in part due to my father's influence and vision, to me there was no doubt I was always an artist!
Currently, I am working with Natural Records Studios' Virtual Reality Experience Game production in which you can check out 
VICTUS VINCIMUS VETERANS REVENGE
for more information.
About V3:
(V3) Victus Vincimus – Veterans Revenge is a military action, science fiction drama depicting the emotional horrors of war, the anguish of separation.
The story or climax is an apocalypse based on the warriors of the past World wars, coming back from their graves disappointed with how the world they lost so much for has become, they wage a different fight against the present world dominant forces and corrupt manipulators.
The XBOX ONE, PS4/PSVR, HTC Vive, VIRTUAL REALITY GAME is named after the movie screenplay written by Hostan Hawk Gouthier and features all the characters of the original screenplay.
The realism of the world is PARAMOUNT, people have to feel they are in this world and the only way to achieve this is through realism, the Game also should be multi-genre as the original story itself, VV is an interplanetary, time machine and international story based on certain realities and fears of today, it is part of "BEATS OF HELL Tales" since the name means PULSE OF PAIN/LIFE IN PAIN/ etc.
Predominantly today's reality is that there are many scientific aspects that we are living in today but many chose to deny how science has a dominant part in our daily lives while enjoying all the perks it brings, beholds science incredible EVOLUTION for the last 60 years and its secrets!
"The realism of the world and characters are PARAMOUNT. The visitor must interact with the character and develop a strong sense of empathy. The visitor's usefulness and participation to the story is a must, the only way to achieve this would be via a microchip that enables an emotional response in AI. Virtual Reality combine with an Emotional Processing Unit offers the potential to remake storytelling, from how we watch Movies and play Games". – Hostan Hawk Gouthier – Director, 
Natural Records Studios
.
METATRON algorithms effectively enable machines to respond to stimuli in line with one of the twelve primary emotions: excite, confident, happy, trust, desire, fear, surprise, inattention, sad, regret, disgust, and anger.
The Emotion recognition classifiers achieve up to 86% accuracy on the conversation. It delivers high-performance machine emotion awareness, are transforming the capabilities of Robots and AI making V3 the 1st ARTIFICIAL INTELLIGENT Film/Game.
"Veteran Revenge": For many military service members, returning home and transitioning into civilian life can be challenging. If they lay down their lives and leave parts of themselves on the battlefield, every American has an obligation to make sure when they (veterans) come home, they don't struggle." In vain, the neglect of veterans has a long history, homelessness, PTSD, limited health care is only a few of the neglects inflicted on veterans today! The greatest pain of them all is on their loved ones, the eventuality they may never see their loved one again is a daily lingering pain that could last a lifetime.
The production main mission is based on the assistance of the PLAYER/PARTICIPANT will offer to VETERANS in their fight vs the Manipulators, puppets and Extra-Terrestrial Being of this world as they know the secrets that most of the world does not!
Arguably, the most exciting feature of (V3) Victus Vincimus – Veteran Revenge the Game is the director's cut camera view and the realism of the characters. Astonishing environments, hyper-realistic CGI, Gamer Teleportation, unexpected twists and turns, unique plots, exciting sound effects, and the sensationally powerful music of BEATS OF HELL brings you this awesome new experience The Natural Records Studios experience.
Funding:
We use Donations (Tips) and Patreon to pay for the cost of developing Victus Vincimus Veterans Revenge- V3. V3 is in its final stages of completion. The funding we receive from patreon will help us accelerate the production through adding more rendering machines, & marketing.
Instead of using Kickstarter, we will be using Patreon. And there are many great rewards tiers available to you, which are our way of saying thank you for making our dreams possible and allowing us to complete V3!
Thank you for your interest and supporting our passion! Be sure to check out our website for more details about us and our game, Victus Vincimus Veterans Revenge - V3 and don't forget to follow us on 
twitter
.
In game development and graphics design, in order to produce the best graphics and imagery is to have a supercomputer to do all this task in rendering models and so on. Once I reach this goal with your help, Ill be able to add another machine which can greatly help me produce more and faster.

1 of 1
Recent posts by Toussaint Louverture H. Gouthier