Uchuu Summer
is creating apparel and comics
Select a membership level
Uchuu thank you!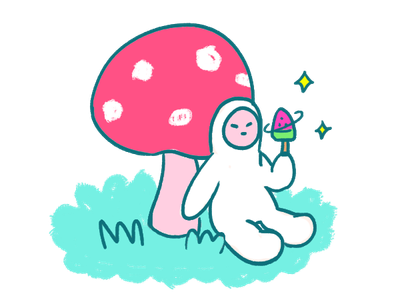 Access to patreon feed, ability to vote in polls, and our eternal gratitude.
About
Uchuu Summer is the work of two artists, Billies and Gabby. We met while attending the Maryland Institute College of Art. Billies now lives in Seoul and Gabby lives in San Francisco. We launched our first line of apparel in June 2016 and continue to create apparel, zines, and artist goods.
"Uchuu Summer" means "The Universe of Summer". We aim to evoke the feeling of summer nostalgia and the dreaminess of space.
Through Patreon, we want to connect with you, share our design process and experiences, gain your feedback on what kind of products you'd like from us, and make some cool goodies for you. Running a store costs a lot of money and we have been using our salaries to keep it running. With the help of our Patrons we hope to keep running our store smoothly, improve the quality of our products, and share the behind the scenes of what we do so that you can get to know us better!
The Artists of Uchuu Summer introduce themselves~!
Billie Snippet:
Hi! I'm Billies, an Korean American illustrator living in South Korea.
Aside from designing t-shirts and products, I do a lot of the promotional and branding work for Uchuu Summer. I make ads for social media and designed our logo. Also, you can usually find me representing Uchuu Summer at events outside of the US.
My biggest passion is making self-published illustration and comic books. I also love traveling and nostalgic sounding music (citypop, chiptune, retrowave, vaporwave, etc.) My long-term goal for Uchuu Summer is that we can open a physical store/studio someday!
Twitter/Tumblr: 
birries
Gabby:
Hi! I'm Gabby, an illustrator living and working in San Francisco. I design t-shirts and products for Uchuu Summer along with Billies. I also do a lot of the day-to-day business-y running of Uchuu Summer (bookkeeping, taxes etc). I table at conventions for us inside the U.S. and once in a while in Japan.
I love drawing patterns, comics, and cute characters. I studied in Japan for a year in high school and hope to improve my rusty Japanese again! I hope that more and more people will learn about Uchuu Summer and we can make it our full time job.
Twitter: 
gabbyness
Website:
www.gabbyhowitz.com
Where to find us:
WEB STORE -
www.uchuusummer.com
OFFLINE EVENTS-
https://www.uchuusummer.com/pages/convention-schedule
Outside of our online store, our merchandise is being sold in stores in USA and Japan (Park Harajuku, Japan LA, Gallery Nucleus, etc.)
We greatly appreciate your support! Thank you very much~
Wow thank you! We'll draw a commemorative drawing to celebrate!
1 of 4
Recent posts by Uchuu Summer
By becoming a patron, you'll instantly unlock access to 7 exclusive posts
By becoming a patron, you'll instantly unlock access to 7 exclusive posts