Unorthodox Fox
is creating Digital Paintings + Process Content
Select a membership level
Fox Tip Jar
Just love my art & want to support? 
Feel free to add to my tip jar. You will receive limited access to my exclusive sketchbook content. And a few surprise throughout the year. :D
The Weekend Warrior
 Daily sketchbook access: Exclusive finished sketches + full doodle pages. The good, the bad, and the ones that clearly have a case of the ugly. 
Weekly Timelapse Videos: WIP shots, dialogue about about my paintings stages / difficulties & a straightforward video process sped up to 10 mins. of digestible footage. 
WIP feed: Thumbnails, rough sketches, shots of various stages of my current personal project for the month. 
Fox Book of the Month: Each month I pick a self-improvement book and throughout the month, break down how it relates to improving overall as a freelance artist. 
About Unorthodox Fox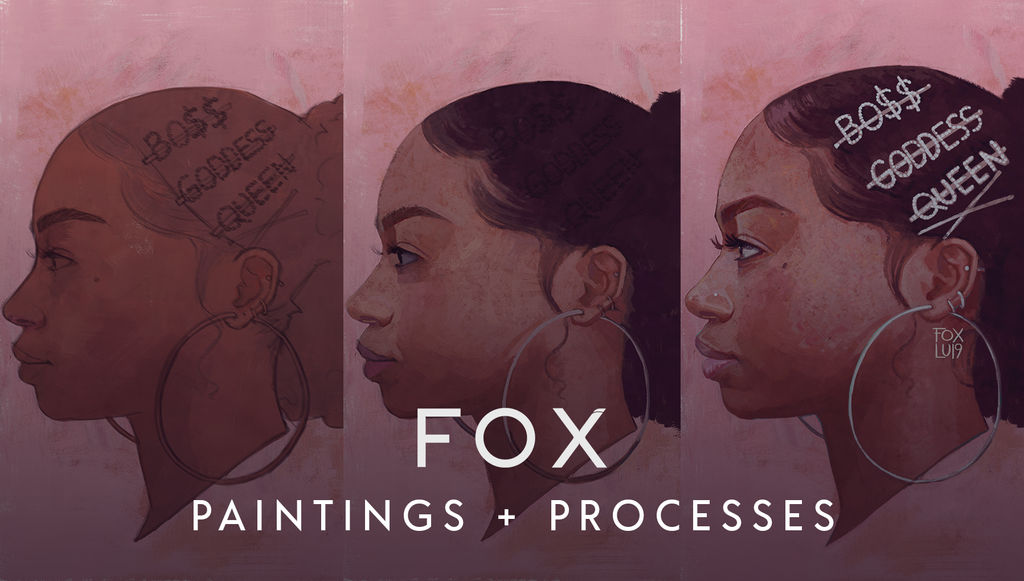 Welcome to my Patreon ! My name is Lauren Ulieme, better known as Unorthodox Fox.  


The journey to growing into an extremely skilled artist consists of three crucial ingredients: 
Habit Building : understanding how we develop habits and making an effort to build positive habits necessary for artistic success. 
Purposeful practice: Figuring out your artistic weaknesses so we know what to practice on and how to practice to specifically improve in those areas. 
Self Improvement: building up ourselves mentally, physically, emotionally, financially and creatively in order to achieve our personal standards of success. 
Patreon presents me with the chance to share how I tackle the challenge of building habits, practicing purposefully, and improving myself through my daily sketchbook, my weekly studies, my personal art pieces, my freelance career, and sharing monthly book choices + how I relate them to my artistry. 
Grow with me as a Weekend Warrior.
The best way I know to impact others is through transparency and living by example. The ultimate goal is to grow with you. To provide a space where you can ask questions & see in real time possible solutions to experiment with. To be honest about what it is like to be a freelance artist in my mid-twenties as I am still figuring shit out. Sift through and find what you need from my experiences to continue to build in your own journey. 
Adding $1 into the Fox Tip Jar, growing with me as a $5 Weekend Warrior, or simply sharing the existence of this Patreon with people you know makes a HUGE difference. The Weekend Warrior tier comes with 4 specific rewards. You can cancel any point in your journey with me. 
Rewards are distributed throughout the month. Schedule below :D

Daily sketchbook: Sketchbook theme Oct. 2019 - Mar. 2020 // Perspective, Figure Drawing, & Value Composition Study Practice. 
Fox Fridays (Weekly Studies): Character designs tackling 3 different prompts : Week One = King & Queen // Week Two = Female Crime Boss + Body Guard // Week Three: The Mechanic (Character Design + Painting) 
WIP Feed: 

Current personal project: Part Two of Amusu  + Static Shock 

Fox Books of the Month:  Oct. 2019 - Mar. 2020 
Perspective: How to Draw by Scott Robertson & Framed Perspectives Vol. 1-2 (Perspective Practice) 
Figure Drawing: Gesture Drawing For Animators, Force: Dynamic Life Drawing For Animators, + Figure Drawing For All it's Worth 
Value Composition:  Framed Ink by Marcos Mateu-Mestre 

** All rewards are for personal use only. Do not sell, redistribute, or alter any of the content provided to you from my Patreon. :D

Once you hit the "

become a patron

" button, payment will be processed immediately for the current month's content. Afterwards, the payment schedule for continuing/existing Patrons is the first of every month for access to monthly content.

Questions, concerns, or feedback? Message me or email me directly at [email protected] 

Thank you for the support! 

I can afford to upgrade my equipment (quality microphone, a web camera, and a high quality video editing software. Which means....

You've unlocked Full-Length Voice Over Tutorials and Monthly Livestreams. 

1 of 2
Recent posts by Unorthodox Fox