Norman Doering
is creating Information and entertainment videos, art, and writing.
About Norman Doering
Greetings potential patrons,
My name is Norman Doering and when I was in my late teens I was an illustrator for TSR's "
The Dragon
" magazine, (TSR stands for "Tactical Studies Rules" and it was the company that created the game
Dungeons and Dragons
). Later, in my twenties and thirties, I did freelance work for
Steve
Jackson's
Games
and some other Fantasy Role Playing companies.
Here is one example of a
pen and ink drawing
I did for the game companies: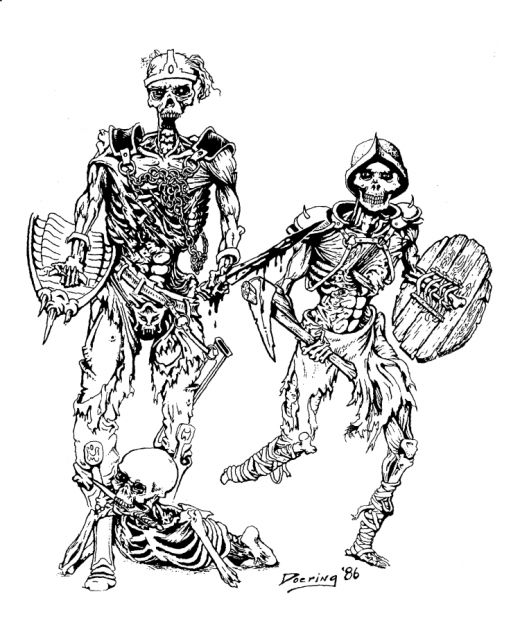 At the same time I was selling my original art at science fiction conventions like
Windycon
and
Capricon
, (both conventions in or near Chicago Illinois) as well as some other science fiction conventions I went to less regularly, such as
InConJunction
in Indianapolis, Indiana.
Here are two samples of the kind of work I sold at science fiction conventions:
I have also written a few short stories for magazines like "Man's Story" and I've also done
computer graphics for movies
(nothing like big budget Hollywood movies. Look for "
Starship II: Rendezvous with Ramses
" on the
Internet Movie Database (IMDB)
to see what I mean.) I have also
experimented with music
on Kompoz:
https://www.youtube.com/watch?v=a_OsB192fN0
That phase of my artistic career was mostly dabbling and experimenting with all the new modes of making music and art and of presenting it to the public that computers and the internet had made possible, such as Youtube and Ebay. In the meantime my income came from other areas and it didn't leave me with enough time to fully concentrate on my art.
When I was in my teens and twenties and even a bit into my thirties (during the 70s and 80s) making anywhere from $4,000 to $6,000 a year doing art seemed like I was making a lot of money at it, but that was because I was living at home with my parents and being financially supported. As I started striking out on my own I had to find more conventional ways to make money (working for a printer, designing food packaging, being a cashier at 7-11, working on a loading dock, computer programming, even trying to sell vacuum cleaners…) and while I made more money at other jobs I started to lose my enthusiasm for doing science fiction and fantasy art and also for trying to write stories because it no longer seemed like a way to make good money. I just stopped trying except for some half-hearted dabbling here and there.
About a decade ago, as part of my dabbling, I got a Youtube channel but I didn't really have much of a focus for it and never made a dime with it (
except for winning third place in video making competition
). Mostly I got involved in arguing for atheism (my earliest atheist arguments were two written essays called
"Hope is the Bait"
and
"Fear is the Trap"
) and attempting to compose experimental music. I started to get bored with the atheism a few years ago and I have not put up a video in years. Now I am planning to get back into video making with a different focus: Science Fiction and Fantasy art, writing, movies, and TV.
My
zarkoff45
channel will feature videos talking about science fiction and fantasy novels, movies, and TV shows, about what makes them good or bad, what their politics are, what they really say about the society we live in, and where to find good shows and reads you may not know about.
I will also talk about painting pictures the old fashioned way with oil paints, acrylics, and an airbrush. I will talk about how to sell them, where to sell them, tips on how to live well with a low income while you're getting started and other related subjects. I may cover similar territory if I try to sell a story in the future.
I am still unfocused and not sure where I will be taking my channel but feel free to come along for a free ride and if you like where I may be headed and want to support my efforts please do become a patron. I need to interact with potential patrons on Youtube comments and perhaps elsewhere before I can focus on what you want and will support. That's why I am telling you where I've been, not where I am going.
At $700 dollars a month I can afford to make these videos a part-time job and produce them on a regular basis.

1 of 1