As I Plant This Seed
is creating Youth Programming
Select a membership level
Power Of Numbers
The power of numbers is very important. This donation is not about how much is donated but how many people is donating  each month.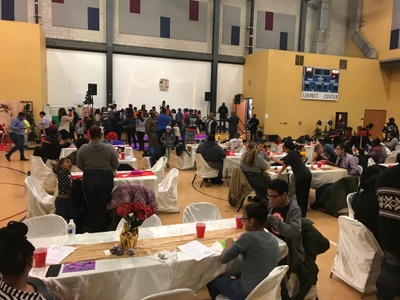 As I Plant This 3
This donation is also about the "Power Of Numbers" but with a little more skin in the game. To truly understand the problems in our community is to be committed to finding the solution.
"High Five"
This $5.00 monthly donation is a energy booster to the work we have done thus far and the work we hope to continue to do. Comes with free t-shirt
About As I Plant This Seed
As I Plant This Seed is a non-profit organization that focuses on the social and educational development of our youth in urban, at-risk communities. Our goal is to enhance and enrich their lives by exposing them to a world beyond their immediate community and provide them with the skills needed to make informed decisions about their futures.        
CORE PROGRAMS
Each year in August, As I Plant This Seed undertakes a back-to-school readiness program, where K-12 students receive the necessary supplies to begin their school year prepared to learn. In addition to school supplies, the drive hosts a series of activities to keep our participants engaged and interacting with positive adult role models. Guest speakers are invited from various professional walks, including, entrepreneurs, professional athletes, teachers, psychologists, social workers, community leaders, and more.

In December, As I Plant This Seed holds a Christmas Banquet where children and families within the community join together for a night of food, fellowship and fun. It is our goal to provide a sense of family and community in an area where these core values have escaped many households. In addition to dinner, it is our goal to have each registered child sponsored by a donor who will take on the responsibility of providing 1-3 items on a child's Christmas wish list.

Talk to Me is a mentoring program that is designed for today's teenager. Our primary goal is to address current issues that our teens are faced with by teaching skills that will enable them to problem solve effectively while navigating daily life. Our aim is to link teens with positive adult mentors who will aid them in the process of making better choices. There is a great need for our teens to establish positive relationships with trusted adults in a setting where they will feel supported, not judged.

PURPOSE 
As I Plant This Seed is embarking on a new chapter in enhancing the lives of the youth in urban Philadelphia communities. As we begin to expand, we are also assuming the responsibility to establish programs and events for our own children within our own communities. Your Monthly
donation will help us continue with the FREE core programming and events that As I Plant This Seed has already established and to provide the community with several new programs including financial literacy and work readiness programs that will equip our young people with the proper jobs skills. Additionally, we are expanding to other areas of the city so that other communities will be able to take advantage of our programs and we cannot do this without the help of our own people. This is only the beginning of what's to come in the near future.        


When we reach 150 patrons we will have a block party for the homeless. We will have a live DJ, food, clothing and most importantly resources to provide assistance to help them out of their current situation.
1 of 1
Recent posts by As I Plant This Seed