Young Grasshopper
is creating Axis & Allies Awareness
Select a membership level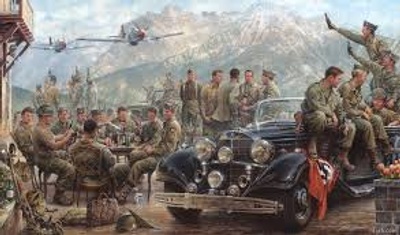 Soldier
When you become a Soldier...
You will get ground level security clearance:
You will gain access to all non-exclusive content including daily videos, polls,  links, trivia, photos... and more.
Commander
When you become a Commander, you will receive the previous reward plus: 
You will get level 1 security clearance:
You will gain access to level 1 top secret content like sneak peeks of new video uploads, back stage access of my customization work, entertaining stories of my years in the community... and more. 
Hero
When you become a Hero, you will receive all the previous rewards plus:
You will get level 2 security clearance:
You will gain access to level 2 top secret content like full disclosure of all my future plans, stories about my personal experiences within the community, advise and strategies from some of the best A&A players in the world... and more.
About Young Grasshopper
Hey everyone,

Young Grasshopper here, and welcome to my Patreon community, I'm a hardcore Axis & Allies enthusiast who loves to see new players entering the hobby. I make A&A YouTube videos explaining how to play... along with strategies, customizations, live stream updates, and topical discussions about the game I love.

I'm also a born again bible believing Christian, saved by the grace of God in November of 2016. My wife who was also saved in 2017 is an incredibly loving, compassionate, and supportive woman. We both have 9-5 jobs, and we also enjoy staying at home with our pets most evenings, and of course going to Church most Sundays.

I want to thank each and every patron for allowing me to do what I love, you all motivate me to make better videos, and you inspire me to continue my passion every day. I'm constantly thinking about new content I can post here in order to make this page the place to be for all Axis & Allies fans, Cheers

...and may all you rolls be ones.

YG.
I will build a new Axis & Allies custom game table that I will name "Omaha Beach". I'll document the entire process on my YouTube channel, and any patrons pledging at the Generals level or above before I hit $500 per month, will have their name honoured with an engraved plaque on the table.
1 of 1
Recent posts by Young Grasshopper