Angela Treat Lyon
is creating Paintings, sculpture, books and radio shows!
Select a membership level
Pledge $1.00 or more per month 
You're officially a Patron! As a part of my "inner circle", I'll keep you up to date with goodies to come: upcoming art, sculpture, books and radio shows, and I'll hang out with you on my Patreon page.

Reward:
Access to my patreon news feed where I discuss upcoming content and chat with you all in person!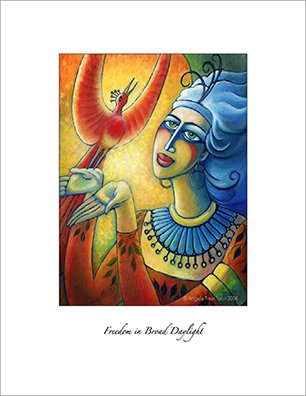 Pledge $5.00 or more per month
You get an 8" x 11" downloadable print of one of my most popular paintings that you can print out and hang in your home, office or workspace to inspire and uplift you!
Rewards:
All previous rewards
Download a free printable print of one of my most popular paintings
Pledge $10.00 or more per month
You get it first! You get a link to check out anything new I produce a few days or hours in advance. Usually with a %age of savings just for you.

Rewards:
All previous rewards
Early access to anything new I produce via a link no one else can access (sent via email)
About Angela Treat Lyon
One of those people who
just can't stop creating, I have my fingers in many pies - all baking in the oven of intention to produce more love, compassion, understanding on earth. One of the problems with being a prolific creator is getting funding so projects can go from idea to consumer without a hitch. Some of my projects have been on the back burner for years!
This year, I'll be the same
age my mother was when she died - way too young at 69 - and I want to make sure my creations - paintings, sculptures, radio shows, books and audios - are categorized, produced, and out there for people to get and benefit from. Love is the answer!
I hope you'll help me deliver the love! Thank you!

In case you don't already
know me, you can find out more here:
Books:
AngelaTreatLyonBooks.com
Art:
AngelaTreatLyonART.com
&
PrintsbyLyon.com
EFT
(tapping):
EFTBooks.com
& free demo at:
EFTinEveryHome.com
Radio
(podcasts):
IDareYouRadio.com
I'm looking forward to meeting you and having you on my 'team!'
Each time I create a new book on my artwork that is loaded with color pictures, it costs me a fortune. If I could order batches at at time, I could get the cost down, so I don't have to charge the reader as much to buy them. The first batch I want to order, at $375, is of: Carving My Life, Volume I

1 of 5
Recent posts by Angela Treat Lyon