Black Anchor Outdoors
is creating null
Select a membership level
get a mention
For this reward you can get yourself your name in the ending credits of our videos.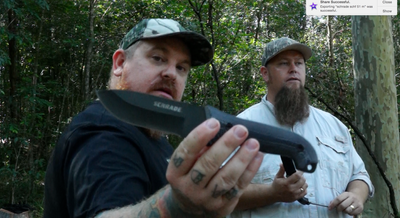 Oh hells a yeah
You will have a shoutout on our video. at the end of the video.
and a one on one chat via Facetime or Skype for either 10 min survival help with Dave or 10 fishing help with Kane.
Nsw locals only (Day learning Survival) with Dave or (day learning fishing) with Kane
Limited (5 of 5 remaining)
This is for the NSW locals or people in oz that wanna travel for this special. 
Spending a day with either producer of this channel learning from them.
there are 3 options.
Option 1
Dave works as a survival instructor for American Survival Guide University teaching survival skills 
so Dave will spend the day taking you out in his local environment teaching the skills needed for basic survival.
option 2 
Kane will take you for a day on the water teaching all the basic skills of saltwater fishing for bream and flathead.
option 3 
Both guys will take you out bush based with a tub of different gear for you to try and talk you through the best gear and the best uses.
About Black Anchor Outdoors
We at Black Anchor Outdoors are an Australian based YouTube channel that is endevouring to bring you content based around Aussie condition. being that of Reviews of products and Bushcraft/Survival overnighters to week leng excursions that we will bring you with. 
Our channel is mainly reviews at the moment that is just to get people to know who we are then we will be introducing more videos of our travels as well as tutorials as Dave is a Survival Instructor for American Survival Guide University and Kane is a sponsored fisherman. 
But all in all we need a bit of help to make these things happen and give the Aussie viewers and you British, American and European viewers a taste of what it is like DownUnder.
Keep the camera gear updating and the new gear coming in the doors.

we need
* 2 new rode mics.
* 1 Slider
* sony A7rII
* new lens.
* 1 lighter tripod.
gear we would like to buy to review soon
* Knives 
* firebox stove
* Silky saws
* Australian made products 
* Hammocks

1 of 1