Paranormal Tyler
is creating PARANORMAL VIDEOS/MOVIES
Select a membership level
SUPPORTER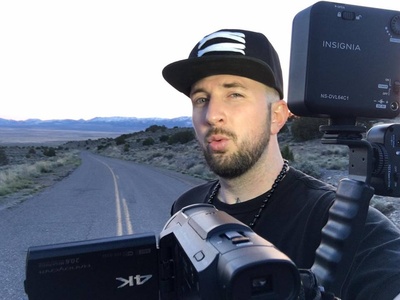 Unlock exclusive content and join my community of patrons. Thank you!
Earn up to 10% off of any public ghost hunts hosted by myself or my team
Get a shout out in my vlogs
Social Media Follow
Brag to your friends that I am following YOU.
Social media follow
Plus all previous rewards
Personalized Video Message or phone call
I'll record a video message, or call just for you.
Personalized video message
Personalized phone call
About
HELLO EVERYONE AND THANK YOU FOR THOSE WHO SPEND THE TIME OUT OF YOUR BUSY DAYS TO WATCH MY VIDEOS. AS YOU CAN IMAGINE RUNNING YOUR OWN PRODUCTION IS HARD WORK. FILMING PARANORMAL VIDEOS ISNT ALWAYS THE EASIEST BECAUSE FINDING "HAUNTED" PLACES IS NOT AS COMMON AS WE'D LIKE. THIS REQUIRES TRAVEL EXPENSES TO OTHER LOCATIONS IN SURROUNDING STATES. I HOPE YOU WILL CONCIDER HELPING ME GET TO SOME NEW LOCATIONS TO KEEP BRINGING YOU THE BEST IN YOUTUBE PARANORMAL ENTERTAINMENT! THANK YOU FOR ALL YOU DO AS IS!!


WHO ARE YOU PARANORMAL TYLER?

I AM A DEDICATED PARANORMAL INVESTIGATOR WHO ALONG THE WAY FELL IN LOVE WITH VIDEOGRAPHY AND EDITING. MAKING MY WAY THROUGH MOST BASIC PROGRAMS I AM SELF TOUGHT AND HAVE LEARNED THE HARD WAY HOW TO CREATE GOOD CONTENT. I FEEL THIS HAS IMPROVED THE QUALITY OF MY VIDEOS EVEN TO DATE. I HAVE NOW TAKEN MANY CLASSES AND HAVE CERTIFIED IN MANY AREAS SUCH AS PRE AND POST PRODUCTION AS WELL AS MANY OTHER AREAS OF THIS AWESOME FIELD. AS FAR AS PARANORMAL , IT HAS ALWAYS HAD THIS HOLD ON ME. I LOVE THE FEELING OF BEING ABLE TO TALK TO THOSE WHO HAVE PASSED ON. EVEN WITHOUT CAMERAS I WOULD STILL INVESTIGATE THE PARANORMAL. IT HAS SEEPED ITS WAY INTO MY SOUL AND HEART AND I LOVE IT WHOLE HEARTEDLY .
paranormal prophecy
WHY WOULD I PAY FOR CONTENT THAT IS ALREADY FREE ON YOUTUBE?

THINK OF YOURSELF AS A BUSINESS PERSON AND YOU ARE INVESTING INTO A COMPANY. BY SUPPORTING YOUR FAVORITE CONTENT CREATORS, YOU ARE ALLOWING AND ENABLING THEM TO PAY OUR BILLS AND INCREASE THE QUALITY OF VIDEO WE WANT TO PUT OUT. SOMETIMES THERE ARE EXTRA EXPENSES FOR US CREATORS SUCH AS STUDIO TIME, TRAVEL, HIRING STAFF FOR HELP , FOOD AND JUST ABOUT ANYTHING ELSE YOU COULD THINK OF.


WHAT DO YOU THE "INVESTOR" GET OUT OF IT?

WELL, BESIDES THE COMFORT OF KNOWING THAT YOU HAVE HELPED ME FURTHER MY OWN DREAMS AND GOALS YOU WILL SEE IMPROVED VIDEOS, NEWER LOCATION, SPECIAL PRIZES AND GIVEAWAYS AND OF COURSE REWARDS.

NOTE:
IF YOU ARE UNABLE TO SUPPORT ME AT THIS TIME, DONT WORRY, I AM NOT GOING TO CHARGE YOU FOR CONTENT WITH THE EXCEPTION OF AN OCCASIONAL DOCUMENTARY. THIS IS JUST A WAY OF HELPING OUT! BECOME PART OF MY TEAM TODAY!

THE GOAL OF $350, MY PRODUCTION TEAM AND I COULD TRAVEL TO MANY LOCATIONS AND BRING MANY VIDEOS TO ALL 3 OF MY CHANNELS. $350 ON AVERAGE COVERS THE COST OF MOST LOCATIONS.  WE ARE THANKFUL AS IS AND ANY ADDITIONAL DONATIONS IS JUST A PLUS. THANK YOU!
1 of 1
Recent posts by Paranormal Tyler