WeirdPhil
is creating RPG Maker games (with optional spicy content wink wink)
Select a membership level
Man/Woman of Culture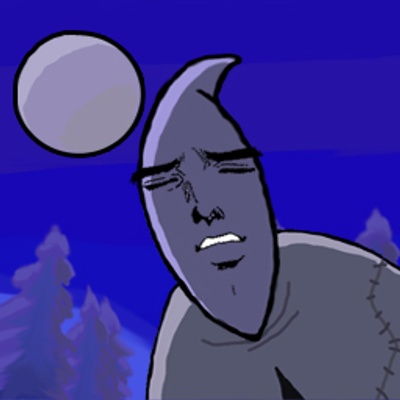 I appreciate any amount.
All tiers, including this one, will get access to the latest builds of the game first. They will hopefully be bug free. I'll make public builds available at a later time.
Patron-only posts and messages
More Cultured than the Average Patron
Every from the lower tier but also includes Discord access and voting power, should there be any polls for any content or additions for the game.
Includes Discord benefits
Patron-only posts and messages
VCP Patreon - VeryCulturedPerson Patreon
You don't need to do this. If you've considered one of the lower tiers, that's okay. This includes access to the early builds before the public releases, access to the Discord + some additional discord channels, AND voting on polls related to the Patreon and the Game.
Includes Discord benefits
Patron-only posts and messages
About
I still upload content to YouTube from time to time, but I've recently moved my focus from playing games to making games. I picked up a copy of RPG Maker MZ on a whim. I've owned 2 other versions (VX Ace and MV) and only spent a little over 2 hours combined on those, mostly because I had no ideas. That's not the case anymore.

I have played loads of other RPG Maker games, learned quite a bit based on how other games play, how things should be working, what other people are interested in... I've lurked on certain forums for years, never commenting, only reading. You could call it market research for *ahem* culture.

I have not felt this compelled to make games since I got my first TI-82 calculator in school years ago. During that time, I had made over 700 games using TI-92 and 83+ calculators as my canvas. If you went to the school I went to, chances are very good you had some of my games on your calculator. I was the reason other people had trouble with math classes. I would spend my time at home programming away, and spend my time at school programming whenever I had finished my assignments. Similar to back then, I've clocked over 60 hours in on RPG Maker in the last two weeks. The difference today is instead of school being the issue, it's my job. I work overnights 5 nights a week. I try to hop on RPG Maker in the morning after work and it's a hassle, trying to balance work on the game with sleep and an overnight job.

With help from nice people here, I could see myself working on games full-time, maybe switching my overnight job to a part-time gig, or whatever. The job isn't the goal here, it's the game: Which we'll talk about next.

I've been learning quite a bit more about RPG Maker and all the neat things I can do with it all while working on this game. After figuring out better ways to program different events, I've gone backwards several times to make adjustments to the earlier sections of the game to keep them consistent with more recent sections of the game. What's really been interesting to myself while working on this project, has been figuring out how I'm going to be able to make this one game tell three different stories. There are three stories that I'm working on with this game. The first story is what I'll refer to as the Main Story. This Main Story will not have any adult content in it, unless you choose to enable said content. Enabling that content only at the start of the game via an in-game prompt will enable alternative dialogue and events in the main story, while also allowing you the ability to take one of three paths. First path being the Main Story, accessible by following the bread crumbs (so to speak) towards the main quest. Second path being a story with a female protag (cough). Third path being a story as a male protag and heavy NTR (you're the Chad, not the chump). With the option to enable/disable said content only at the start of the game, you can choose to block the two adult routes if you're looking for a more serious/less spicy experience.

Third story will take me longer to complete than the other two because it requires me to finish all the maps of each of the towns and locales, and populate them with NPCs for you to meet and stuff. Second story will be complete after the first story, mostly for the same reasons. The plan is to have each of the stories take place in the same world, being mostly separate and hardly ever intersecting if at all. I want each story to be it's own after branching out from the beginning of the Main Story. Consider the second and third options definitely non-canon, second being a "maybe I can work this into this" kind of and we'll see what happens, which the first option being the definitely canon story.

I'm not able to create my own art assets at this moment. Most NPCs and even the PC are placeholders right now, using the pre-fab assets included with RPG Maker and some of it's DLCs. I've been replacing these placeholders bit-by-bit with creative use of the character generator. The art, however, is one of my personal concerns. As with most adult-oriented RPG Maker games, they usually can have a plethora of amazing/beautiful character art and that's not something that I can see myself doing unless I just "become" a talented artist overnight, but I could always commission a talented artist, or hire one.

So, to summarize: I'm looking to work on this dream project of mine full-time, taking time away from my overnight job, using patreon money to pay my rent and bills, and hopefully an artist. I've got a lot of ideas for this game. I have a small piece of it that I believe to be bug-free (I try to break my game on purpose because I don't want any dead ends). I'm looking to getting whatever pieces of my game available so that people can try it, give me feedback, tell me what they liked, what they didn't like, give me suggestions. I already have a discord that can be used for feedback and the like. I'd like to hear what people think about this. What sort of interest this game can generate.

This covers a good chunk of my monthly spendings (Rent/PhoneBill/Food/Gas/CarRepairs/Etc). Meeting this goal means that I can safely work on this game Full-Time and give it the attention that it deserves. It will also allow me to look into releasing builds more often.
1 of 3
Become a patron to
Connect via private message
Recent posts by WeirdPhil
How it works
Get started in 2 minutes