The Klyoogle Project
is creating A flagship landcare and catchment water regeneration site, encom
Select a membership level
Sponsor a Tree
Want to help regenerate rain forest for the cost of a couple of cups of coffee per month?
 
Sponsor a Tree at The Klyoogle Project!
 
Help regenerate a large part of the 100 acre property which  encompasses the headwaters of 2 catchment areas and has significant  value with regard to regional biodiversity corridors.
 
Your pledge will enable us to plant a tree in your name as part of our ongoing rainforest regeneration programme.
We will make a little plaque to go with your Tree and give you a  login to our website where you will be able to access monthly progress  photos of your trees growth, it's GPS coordinates, and photos of the  overall Zone planting progress!
Forest Camping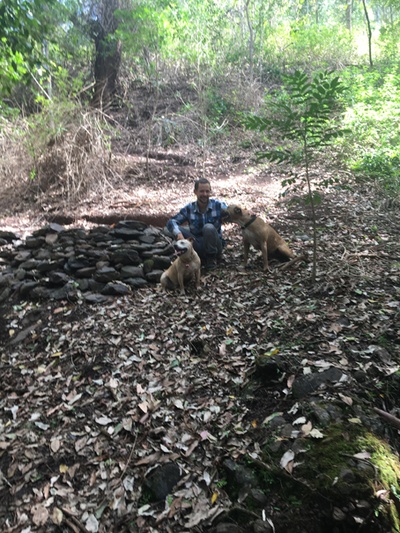 Come and stay the night at one of our tranquil forest spots, located throughout The Klyoogle Project Site.
Relax by our cascades, go for a bush walk, or partic in one of the many activities on offer.
Clothes On Your Back
A choice of one of the good quality printed T-shirts, Miniskirts and other clothing items featuring The Klyoogle Project Logo and images from the forest on-site at The Klyoogle Project, contact us each month to choose a piece.
About
Since the initial founding of the Project, under the guidance of it's Project Directors, The Klyoogle Project has undertaken a large body of work with the assistance of 100's of volunteers to regenerate the project site, cleaning up creek lines to remove many kilos of discarded waste such as rusty barbed wire and other debris left over from previous farming activities, removing plant, and rootstock of the invasive weeds which took over the disused pastures, replanting key areas with native forest, and sculpting the mountainous land to establish permaculture gardens which utilise the ever increasing nutrient flows generated by the re-establishing forest.

We would like to thank eveyone who has contibuted in an overall positive manner to The Klyoogle Project, and would like to invite all of you to come and participate, eithre for the first time, or as a returning friend of The Klyoogle Project.
This Project is a 100% off-grid, community based Project which encourages the participation of travelers and tourists who wish to experience the joy of landcare in a supportive environment where they can develop their own skill sets to take with them in their adventures in the wider world, and we are seeking your support to take things to the next level, as we upgrade our faclilities to complete our 5kW solar microgrid, upgrade our amienities, and complete a number of discrete infrastructure projects, such as farm and forest stays, market garden expansion, and our temple space, all of which will enable The Klyoogle Project to become fully sustainable in its own right, and able to give back to the Community, as per the original project vision.
We are seeking people to support us through this Patreon campign, but also to come visit and participate, hold a workshop, plant a garden, regnerate some forest and creek areas, and create mutual wealth, abundance and good times whilst doing so.
Please visit The Klyoogle Project Website, via the following link:
https://www.crucialidentity.com.au/Kyogle/index.php
and please, support us by contibuting to this Patreon campaign, we are truley grateful for the support from volunteers, sponsors, and donors over the past 7 years, and we look forward, with your help to becoming fully sustainable and returning the flow of abundance back towards the Communities we are working to support.
$50 a month will help fund supplies and consumables for a wwoofer to undertake some of the tasks that need doing @ The Klyoogle Project.
1 of 4
Recent posts by The Klyoogle Project