VioletGaming.com
is creating Violet Gaming Comic Book/Graphic Novel at VioletGaming.com
Select a membership level
Thank you for your support. Updates with new content.
Get on the list for updates, emails and a hearty thank you for keeping this endeavor alive. Your name on the website acknowledgement page.
The hidden content tier.
Unlock early access posts on Patreon. See what is coming down the pipe with $2 a month. Your name on the website acknowledgement page. Thank you for your support, it means more than you know.


A comic used to cost this much so PDF's away.
This seems like a reasonable price for a comic book. Recieve PDF's in HD resolution. OG status on the  acknowledgement page.
About
VioletGaming.com presents Violet Gaming. Updated weekly.
Our intrepid space crew stumbles upon the mystery of who murdered Earth in the last age of terrestrial bound humanity.
Thanks for the interest and possible support.
Follow the journey on all your local stations. Instagram, Twitter, Facebook, Youtube and Artstation.com/artist/violetgaming. 
VioletGaming.com is coded to be as small and fast a website as possible. Currently under 3mb in size for lighting fast loading times. No java script bloatware or tracking software. 1 ad at the bottom is the only line of code not written in house. If you enjoy the work and cannot donate, no worries, enjoy. And maybe toss me a buck when you're rich and famous.
Produced in +4k resolution. If you're a fan, support the project and get high resolution downloads in a variety of formats. You can support the project in a variety of different ways by going directly to 
https://violetgaming.com/donate/index.html
as well.
Update: 5.2.17 WIP concept colors and placement. Got a little wide for a proper Graphic Novel cover. Still needs a lot of work.
Higher Resolution version at 
VioletGaming.com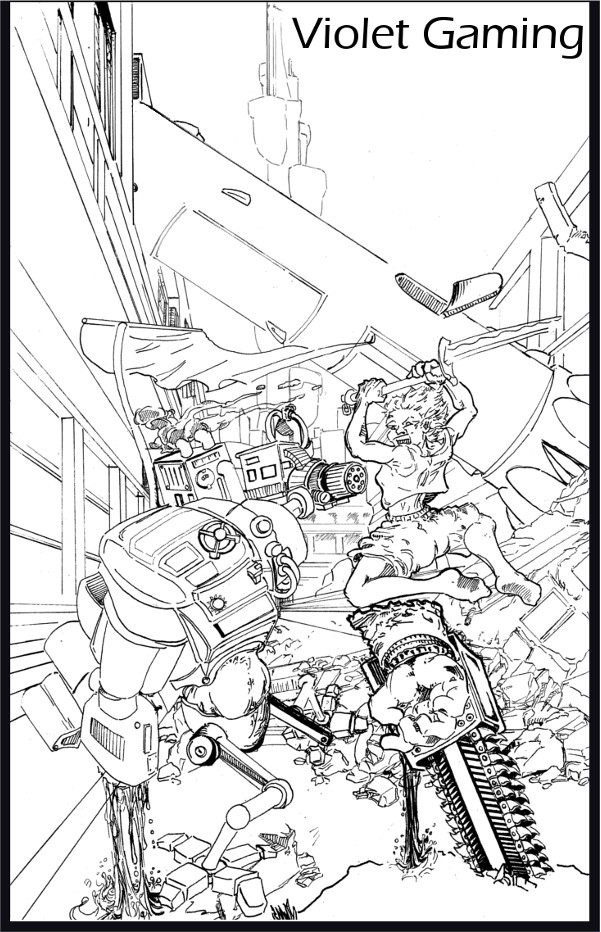 With a lot of the technical stuff limping along, time to finally realize the fun part. Drawing, inking, and editing this Graphic Novel.
Rewards will include, original artwork, founding member status with acknowledgment in the title page, high resolution PDF files and early access to upcoming pages. Higher tier patrons will have access to being included as a character, 1st edition limited print run, posters and more.
The time table is simple.  A full comic book a month, updated on a weekly basis. After a year a full 192+ page Graphic Novel will be released with enough support. Hope everyone enjoys the journey.
Thanks for taking the time to consider helping.
D.C.
Printing is the goal. But the 1st goal is, 1 patron. So if you're that person. That would be nice.

I will always remember you. Receive something shnazzy as well.



1 of 1
Become a patron to
Connect via private message
Recent posts by VioletGaming.com