Select a membership level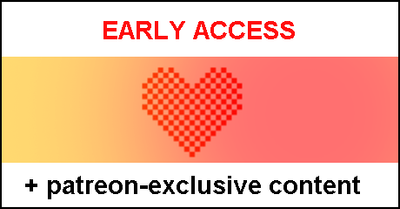 My Heart
You get my heart!
+ plus patreon-exclusive content: 
regular news about the current process of production projects, release dates pieces and other relevant things.
+ Early access to new games still in the lead and awaiting publication.

Your Name in the Credits
+ aforesaid. 
+ your name in the credits of my next project 
+ Participation in the voting, the decision of which will be taken into account in subsequent projects.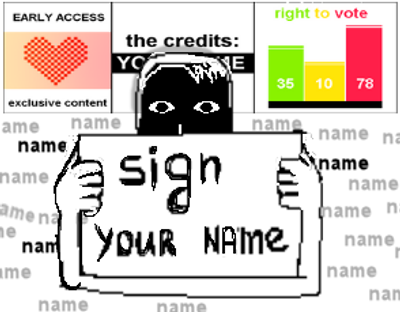 ART
+ aforesaid. 
+  sign from me.
+ Your name is hidden in the game. Find him playing the game.
About Vonka
Hey. (Sorry in advance for My Russian accent)
In my spare time, I develop games for the soul (genre: interactive cinema). Each project is entirely the author's work, from writing the script, to directing, drawing, and coding, all lies entirely on me (from this truth suffers the frequency of the project, because each aspect is given due painstaking attention). The goal is to gain constant audience of 500 people, to quit his job and completely surrender to his favorite cause.
All games are laid out in the public domain on online flash sites (no need to download anything, buy, just click on the link go to the site and play)
Scroll to the bottom, there will be posts with a link to the game.
You can click here and play:
(click the images! these images don't look like links, but they are, indeed, links):

You are the best!
The money will go to the English translation, and for quick lunch.


1 of 1
Recent posts by Vonka
By becoming a patron, you'll instantly unlock access to 11 exclusive posts
By becoming a patron, you'll instantly unlock access to 11 exclusive posts