Write Like a Mutha Podcast
is creating a podcast interviewing moms in the literary industry.
Select a membership level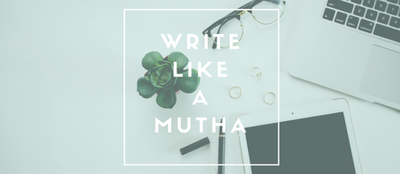 Write Like A Mutha!
Every new Write Like A Mutha Patreon subscriber gets a shout out in the podcast & on the site!
Mutha Lover
You will get a Thank You on our Podcast page + exclusive content from our guests (incl. free books, discounts, etc.) for that month.
A Real Mutha For Ya!
At this level you get everything in the above levels + be entered into our monthly giveaways (Books, Amazon Gift Cards, Writerly courses, etc.)
About Write Like a Mutha Podcast
Hi, I'm Kenesha Williams the host and creator of the Write Like a Mutha podcast. 
The Write Like a Mutha podcasts Moms who are Authors and Moms who are in the Publishing industry. If you've ever wondered how these women juggle motherhood with their literary career, listen in.
Why Patreon?
The money from Patreon goes to new/newer equipment, hosting and/or software. The money will also be used for live shows, which could include travel, equipment, giveaways, etc. The Patreon validates what we are doing from both a time and effort standpoint, and your support means everything!
Write Like a Mutha will always be free, we just want your help to make it a bit better for everyone! We recommend the tier at $5 a month. $5 monthly breaks down to $1.25 per episode and gets you access to podcast interviews early, special deals from our hosts, and more.
How Can You Listen?
There are multiple ways you can listen to the show! Here are some ways below:
WLM Patreon Video
from
Kenesha Williams
on
Vimeo
.
This amount will fund the editing and show notes for our monthly episodes!
1 of 5
Recent posts by Write Like a Mutha Podcast