Emily Celeste
is creating Cosplay
Select a membership level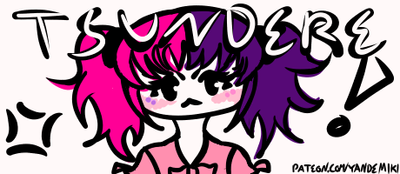 ♥ tsundere ♥
Thank you so much!! Every bit counts and I appreciate you support <3 
What you get:
Access to my Patreon feed
Vote for what I'll cosplay next
♥ kuudere ♥
Thank you for supporting me! As thanks, I'll do a fan sign for you with a little doodle :)
What you get:
One time fan sign with a short thank you message!
Access to my Patreon feed
Vote for what I'll cosplay next
♥ dandere ♥
Thank you!! It means a lot to me that people want to support my content, so I think it's only fair to show my supports the process of my work and what exactly their money is going to :> 
What you get:
Cosplay work-in-progress photos
One time fan sign with a short thank you message!
Access to my Patreon feed
Vote for what I'll cosplay next
About Emily Celeste
Nyello! <3
A little about me...
My name is Emily Celeste! I'm eighteen and a cosplayer and j-fashion enthusiast located near Seattle. I've been creating my own costumes since the sixth grade and have always wanted to pursue it more seriously, but didn't know how. Now, I'm a college freshmen and since I finally have the time and space to continue my work, all I'm missing is the money to pay for it. I create all of my cosplay from scratch - fabric and a sewing machine is where I start. However, cosplay is very expensive, and it costs me substantial amounts to continue pursuing my passion with no profit at all. Because of that, it's becoming extremely difficult for me to continue. I'm here because I want to share my work with more people and interact with people who want to support me!
What you get if you support me...

All of my supporters regardless of pledge cost will get access to my Patreon feed and polls to help me decide what to cosplay next! In my Patreon feed, I'll post photo sets before they go onto Instagram, behind-the-scenes photos from my shoots, my cosplans, and photos that I decide not to post onto other platforms for whatever reason. For my $10 or more patrons, you'll also have access to work-in-progress photos! All of my $5 or more patrons will get a monthly fan sign (posted collectively on my Patreon feed) and thank you message from me. For $25 or more, I'll send you a signed cosplay polaroid every month, and for $50, you can be my penpal! If you
really
 love my work and wish to support me more than any of that, I'll take a cosplay request from you if you pledge $100! Your request will be added to my cosplans list, and I will likely begin work on that as soon as I finish my current project and can afford to do so. If for any reason I have an issue with your request, we can work something out together! Oh, also - you get to chat with me on discord whenever you'd like, and I'll directly send you progress photos and updates on your request, as well as personalized photos in the completed cosplay that only you see. <3
What your money will go to...

If you chose to support me, I believe that you deserve to know what I'm using your money for.
Before anything else - rent, bills, food, and basic expenses
Getting professional cosplay photo shoots of my existing work
Creating new cosplay based on my current plans and your votes
Eventually upgrading my computer so I can stream on Twitch
Other places you can find me...
Instagram: @ya.n.dere
Twitch: yandemiki
If you made it this far, regardless of whether or not you chose to support me, I'm extremely grateful that you took the time to read my page! Thank you, and I hope that you enjoy seeing my work. :)
I'll make a Discord for all of my patrons and special roles for my higher tier supporters :)
1 of 1
Recent posts by Emily Celeste
By becoming a patron, you'll instantly unlock access to 4 exclusive posts
By becoming a patron, you'll instantly unlock access to 4 exclusive posts