Your Personal Driver
is creating Ride Share Tips and Tricks
Select a membership level
Live Stream Machine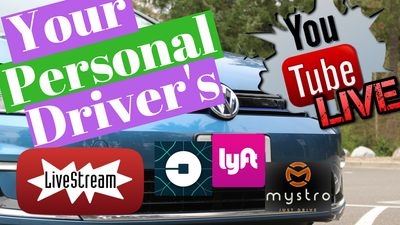 All Patreon subscribers will have access to all my live streams.  Not just the 1 hour live stream that is available to my YouTube subscribers on Friday and Saturday.  That is right, if I am driving for Uber and Lyft, I will be broadcasting to all my Patreons.  Regardless of time of day or day of the week.  I will add your name to the endscreen of all my videos in the order you sign up
Live Stream Name Shout Out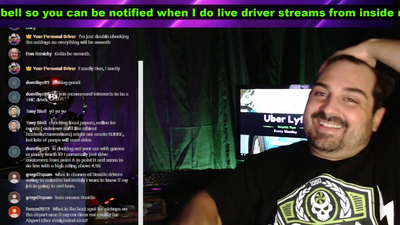 Everything at the previous levels.  Plus, I will add your name to my livestream ticker.  I do live streaming AMA for new subscribers every Wednesday.  The name will remain there as long as you subscribe at this level.  There will be no limit.
Video Suggestion
Everything at the previous levels.  Plus a suggested video. Do you want me to cover a ride share topic? I will research, create a script, shoot a video, edit said video and upload it to my account.  These videos will come out once a week in the order that I receive them.  These videos must be ride share or gig economy related.  As long as you are subscribed at this level, I will do a video topic of your choice once a month.
About
Thank you!  It has been a fun adventure to get this channel to the point where it is now!  That is in no small part because of you the viewer.  Otherwise, this channel would just be me talking to myself.  And that wouldn't be very fun, would it?  

Now, thanks again for taking the next step and deciding to support my channel.  As time goes by this money will be spent on things like new equipment.  It will also allow me to make more great content that you are obviously enjoying!

Aaron is an experienced NW TNC driver who wants to bring a unique perspective to the crowded world of YouTube TNC drivers. From basic "how to" questions to interviews with NW drivers this channel pulls no stops to bring you great content week in and week out.

He is married to (requests to remain anonymous) and is a father to 2 boys, Jonny Danger and Nate The Great.

The one thing my channel needs immediately is a huge lighting set up.  This 240 bucks will buy me what is known as a lighting ring.  While there are many options, a professional, quality ring light costs 240.  The one I want to buy is linked below.
https://www.dvestore.com/prismatic-halo-ring-light/#aid=6324
1 of 3